it's the end of the world as we know it, and we needed to keep idle hands from becoming the devil's playground.and if there's one thing i know about crochet, it's that it uses both hands.



yes this lives on instagram, yes this lives on pinterest, but the most interesting place this lives is the worldwide home of all yarncraft: ravelry.



shoutout to Phil Ferguson for being our adorable expert crocheter, patternmaker, and model.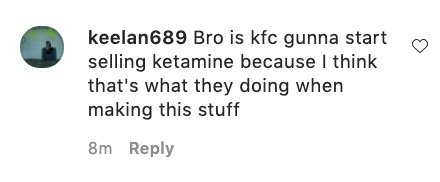 THIS COMMENT IS THE HIGHLIGHT OF MY PROFESSIONAL CAREER THANK YOU KEELAN689.
YOU REALLY DON'T NEED TO READ ON.
BUT IF YOU INSIST...
"It's comfy! It's cozy! It's KFC crochet! Winter's almost here, so there's no better time to learn the magic of looping yarn through other loops of yarn! Grab your hooks and skeins, fellow crafters; tomorrow we venture into the wild world of crochet."
"Beanies go with scarves like green beanies go with buckets—that is to say, deliciously. Click the pattern link in the bio, and crochet a delicious combo for your head."
"Yarn may be the least deep-fryable of the string crafts, but it is the most scarf-able. Protect your neck and the necks of your loved ones from the cold with this elegant, delicate poultry scarf. The pattern's in my bio."
"Everything in life is better when it's in a bucket. That's KFC's philosophy on chicken, and that's KFC's philosophy on toy chicken drumsticks. If this is your philosophy too, the pattern's in the link in my bio. Let's philosophize together."
"Don't let his adorable little smile fool you. This drumstick means business, so long as business is playtime, because he's a true professional. Let's get down to business bringing this woolen friend to life."
[
nah
] [
back
] [
next
]